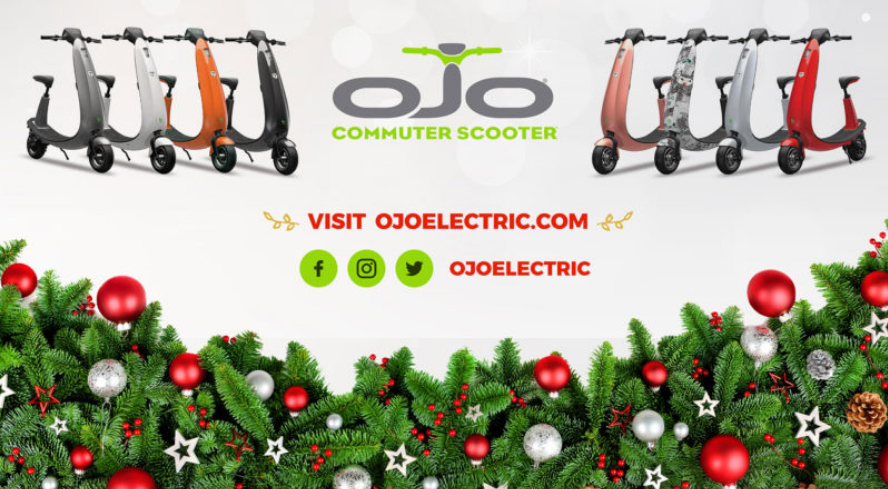 Maintaining my "cool uncle" status was not the only reason I bought my OJO scooters, although it was indeed a factor for sure.  ; )
I recently bought two OjO electric scooters from Electric Bikes of California, and I've had so much fun that I'm actually a little sorry I waited this long. When I asked Electric Bikes to help me find the best electric scooter, they pointed me in the direction of the OjO (pronounced Oh-Joe) Commuter Scooter. It's all-electric and has a lot of nifty features which have transformed it into a smart electric scooter, or e-scooter.
Convinced that this was the best electric scooter on the market, I got two OjOs from Electric Bikes for just under $2000 each. I've been using them to run my errands like going to the post office, eating at my favorite restaurants in Santa Barbara, checking out the beach, and meeting with clients. I'm really enjoying life in the bike lane, and the savings on gas are a big plus.
I love to update my readers on products and services available here in California that I think are perfect for our area. With the beautiful climate and easy terrain of Santa Barbara, this is a great location to scoot around and enjoy our sunny weather and warm breezes. And there is no better way to do that than with an electric scooter.
My OjO Commuter Scooters are very sturdy, and provide quite a safe and comfortable ride. I even had my niece and nephew check them out – helmets are required for riders under 12 – and they gave the official kids' seal of approval by saying they "had a blast."
I'm not alone in enjoying the benefits of this form of transportation. In fact, Statista reports that by 2024 the projected global market for people who want to buy electric scooters will be well over 4.4 million. This could be attributable to their low cost and eco-efficiencies, but I think the growing popularity is all about the fun.
When you compare electric scooters to electric bikes, you'll see they have similarities and differences. Electric Bikes says their eBikes are a bit larger and are based off of traditional bike designs. They feature a battery pack, controller, and an electric hub motor. Their OjO electric scooters, on the other hand, have smaller tires which make them very maneuverable. Riders can stand or comfortably sit on the ergonomically designed OjO, which makes it perfect for the commuter or outdoor enthusiast. Whatever your outdoor riding needs may be, Electric Bikes can help you find the ride that is best for you.
The Benefits of the OjO Electric Commuter Scooter
If you want to buy an electric scooter, now is the time to take the leap. They're perfect for personal use, or make a great holiday gift idea. Here are just a few of the things I love about my OjO e-scooters:
Durability: This isn't your kid's Razor Scooter, by a long stretch. The OjO is designed for comfort, security and agility, making it the perfect ride for kids AND adults. A fully-welded lightweight aluminum frame and durable integrated ABS automotive grade plastic fairings create a combination of strength and beauty. Best of all, the aluminum design means it's weatherproof, waterproof, and rustproof. I feel safe and secure riding on this luxurious mode of electric transportation.
Stability: Good-sized, treaded, all-weather tires provide maximum grip for turning, in case I get caught in a California shower. Protective mud flaps help maintain peak performance. The front and rear disc brakes provide a safe, quick and controlled stop.
Sturdy: The OjO features a wing-shaped body and an all-welded heavy gauge extruded aluminum under-chassis for optimal strength and stability. It can easily hold up to 300 pounds, but it only weighs 65 pounds itself. I can throw it in the back of the car and take it anywhere around Santa Barbara for a day of outdoor fun.
Range: The removable 48V Lithium Ion battery provides a range of up to 25 miles when fully charged, depending on the terrain and speed. A patented on-board charger with retractable cord plugs into any 110V wall outlet, so you can recharge while enjoying lunch at our Santa Barbara restaurants.
Speedy: There are three speed modes – easy, economy, and sport – with a top speed of 20 mph. The OjO also has the power to climb hills up to 12-15 degree grades.
Comfort: The OjO was ergonomically designed, and features heavy-duty mono-front and double-rear shocks, so it's really comfortable to ride, even for the longer distances.
Tech-Friendly: You know I love my gadgets, and the OjO completely satisfies this need. A special capacitive, non-glare touchscreen allows me to choose from the three speed modes, review current and historical distance information, and control the e-scooter's lighting and sound features. It has a Bluetooth-enabled sound system with high-fidelity, dual waterproof integrated speakers, so I can enjoy my tunes. There is even a convenient USB port for charging my phone while I'm on the go.
Safety: Front and rear LED lighting maximizes my vision and makes the e-scooter easier for others to see. An electric safety horn lets them know where I am. I have a secure key fob for starting it up, locating it if I forget, and activating the security system. The motion-activated alarm serves as a reliable theft deterrent.
There are no harmful emissions because it is electric, and it's incredibly easy to maintain. You can choose from a variety of colors including gloss white, matte black, sky blue, rose gold, graphite, orange and the way-cool street art. Available accessories are a handy basket for holding your necessaries, mirrors, additional battery, replacement tire, and optional battery charger.
The OjO Commuter Scooter was developed at the company's headquarters in Santa Monica, California. It is available at Electric Bikes shops in Santa Barbara, Santa Monica, Corona Del Mar and Malibu. If you're looking for a fun, safe form of transportation in Santa Barbara, compare the OjO electric scooter to other options and you'll see that it can make a great choice for you and your family.