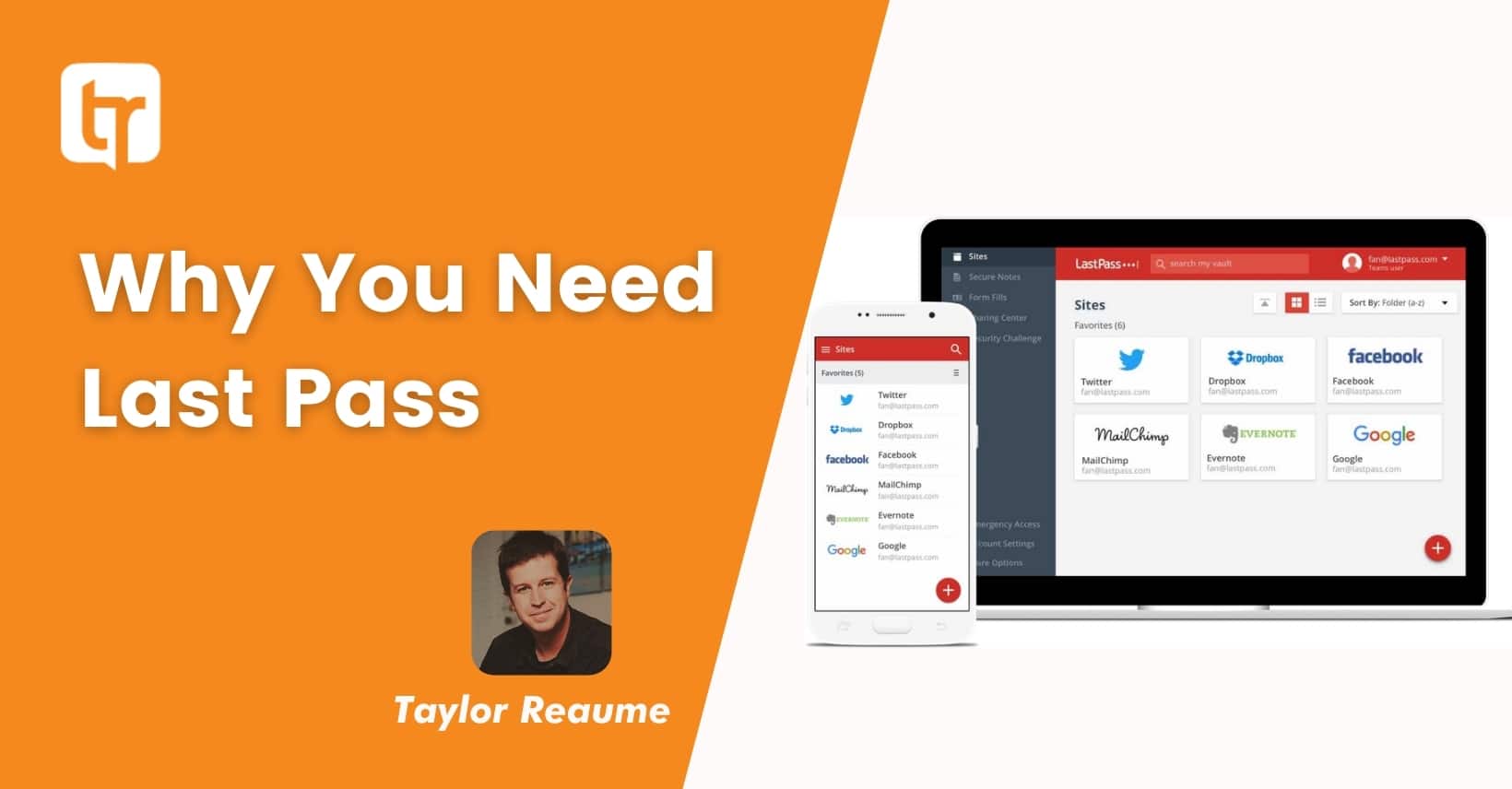 Keeping track of unique passwords for various devices is a never ending scooby doo mystery for most business owners.
LastPass is a password management software that simplifies your password management strategy. It allows you to store all your passwords in one secure location, which you can access with one master password. LastPass offers packages for personal use and for business use.
In the personal category, you can choose a premium or a family package. You need not purchase either one immediately. You can sign-up for a 30-day free trial to see if you like it. No credit card is required.
When your premium trial ends, you can continue with a few basic features, including a secure password vault, access to one device type, and a LastPass authenticator, at no extra charge. If you want to access more advanced functions of the site, then you will be required to pay $3 a month.
There is also the LastPass Families package. You can use it to store and share medical, entertainment, and credit card accounts that everyone in your family can access. This costs $4 a month and allows up to 6 users.
LastPass also offers packages to businesses and organizations of all sizes. LastPass can provide solutions for password and information storage and management for individual teams and across an entire enterprise. LastPass MFA uses biometric and contextual intelligence as authentication factors, which gives your people an even more robust way to protect valuable data. The company also offers business and IT executive the ability to centralize and track authentication so that they know who is accessing what content, from which platform or device. LastPass is open to working with companies on an individual basis to address specific needs.
LastPass is one of the most trusted brands in password management. Here are 10 reasons why you need LastPass to store, secure, and manage your passwords:
Secured Through Encryption: You may feel uneasy about storing all your passwords in one digital space. But you should know that LastPass stores your passwords in one place on your computer and protects it with encryption. The master password is the only way to access this information, and it is not stored anywhere. You will be the only one who knows your master password. Not even the LastPass team has access to it; nor do they have the ability to retrieve it.
Saves You Login Time: LastPass automatically gives you the option of adding password-protected sites to your vault. When you add a site to your vault, LastPass will automatically fill in the username and password for you every time you visit it. You can also add multiple accounts on the same site to your vault. If you have a number of accounts on different social media sites, LastPass allows you to save multiple login credentials for each of them.
Accessible From a Range of Platforms: LastPass is available through Google Chrome, Mozilla, Firefox, Microsoft Edge. It can also be accessed on smartphones that are run by Android, iOS, or Windows Phone.
Other Storage Options: LastPass is known primarily for its password storage and management system. But you have the option of storing other sensitive data and information on it. Users can put credit card, banking information, and notes that they do not want to commit to memory or write down on paper. You can also use LastPass to automatically fill in credit card information for purchases you make online.
A One-Time Password Feature: There may be times when you need to access your LastPass account from a public computer. If it is one that you do not trust, then LastPass has a feature that allows you to punch in a one-time password to access your vault. You may prefer this to entering your master password on a computer that you do not know.
Helps You Create Secure Passwords: If you are having a tough time coming up with a good password, LastPass will generate one for you. It has a feature that allows you to tailor the password to a specific number of characters, numeric digits, and special symbols. The system will then fill in this generated password to any site you add to your vault.
Transparent: LastPass monitors its network around the clock, and there have been no known breaches of the system. However, no data storage site is completely secure. The professionals at LastPass are honest about any security issues they may have with the network. And they send their members updates until the matter is resolved.
Sound Authentication Procedures: It is quite hard to get into your vault. In addition to entering your master password, you must also punch in another piece of information. LastPass gives you the option of using Google or Grid Multifactor authentication, both of which are free. You can also use more advanced authentication procedures such as a smart card or a fingerprint for a fee. The aim here is to deter hackers from trying to break into your vault and steal your passwords and information.
Cost Effective: LastPass is a relatively inexpensive password manager system. You can get access to basic functions and support for free. The more advanced features that come with a premium personal account will cost you $36 a year. This is very little money given the many benefits gained.
Trusted By Experts: The thing about the computer and computer security industry is that those who work in it tend to share their opinions about various IT companies and the services they offer. LastPass has received mostly glowing reviews by these experts. There is a world of difference between companies that promote themselves as a trusted brand and those that are accepted as such by industry leaders. LastPass is in the latter category.
Creating and memorizing unique and strong passwords for each of the password-protected sites that you visit is impossible. Using LastPass is the best way to avoid this struggle. No matter the particulars of your situation, if you are active online and must access multiple password-protected sites every day, you need what LastPass has to offer.