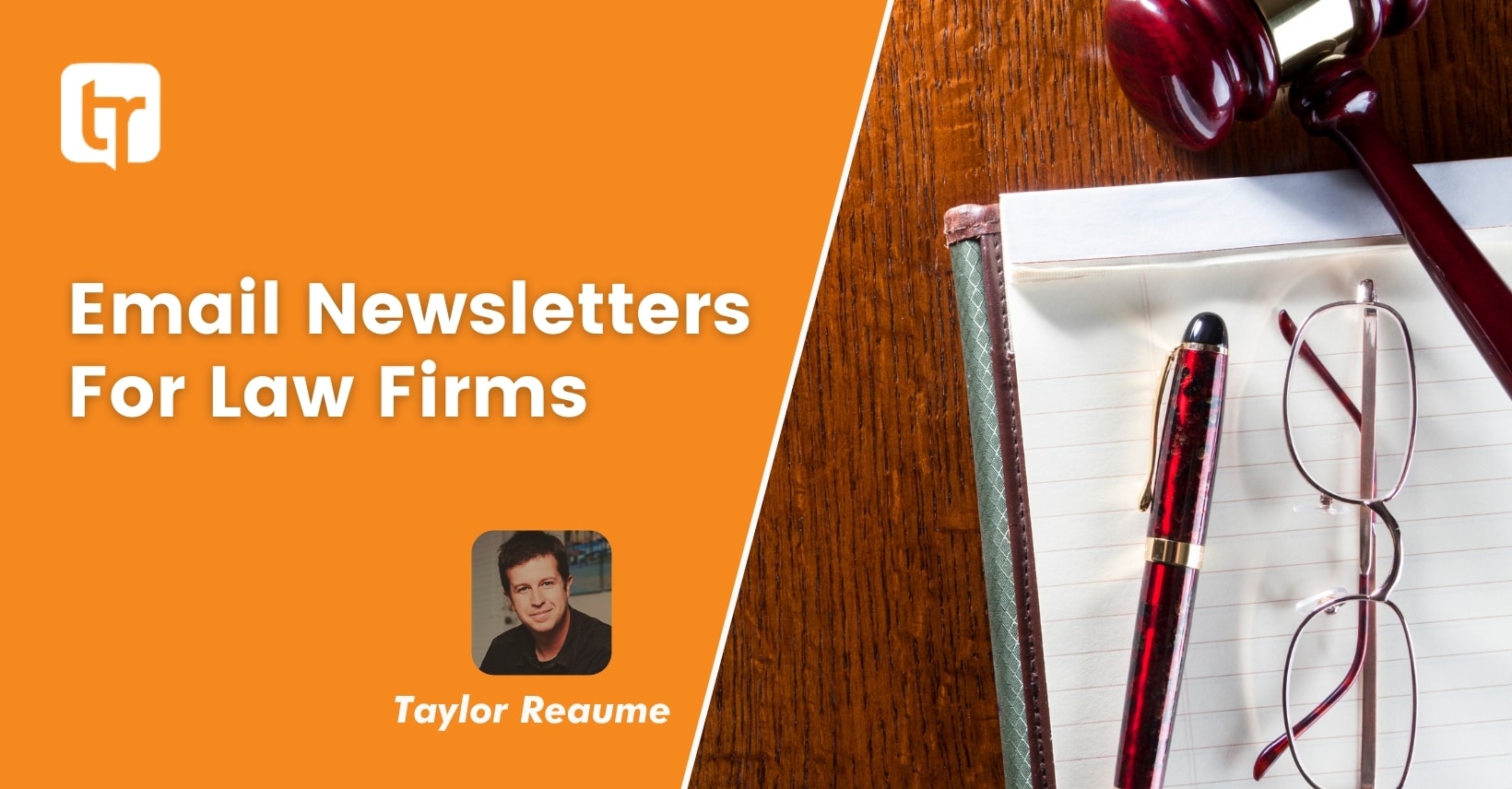 Email newsletters are an irreplaceable marketing tool used to communicate with your clients and spread the word about your law firm and its accomplishments.
An email newsletter can demonstrate your expertise in an area of law, which not only reassures your current clients, but can attract potential ones.
Keeping email newsletters informative and personal to your law firm is key. Whatever your area of law, keep your newsletters and content relevant, and utilize these tips to create and keep an effective law firm newsletter.
Ask yourself: is your law firm's newsletter easy to read and does it keep your client interested? Do you send out your newsletter weekly, annually? Thinking about your firm's newsletter and how to brighten it up, make it more accessible to potential clientele? We've compiled a few tips and tricks to streamline the process and show your clients how reliable and experienced you are.
Use Simple, Understandable Language
The best way to get your point across is to say it, and say it simply. While you may know the ins and outs of the legal system, it is important to remember that not every client has the same knowledge. Explaining in a clear, concise way, like how you speak in person is important, especially when communicating electronically.
Writing straightforward articles is the best way to share your expertise as a law firm. Think less school paper and more conversational. As someone who has read many types of legal writing, you know firsthand how important decipherable and concise writing is. If you want people to read it, you must write it well. When in doubt, read it out loud and see what it evokes.
Be Consistent with your Email Newsletters
As with most things in business: consistency is key. Once you have decided to send out a newsletter, set up a plan, and stick with it. Of course, some tweaks and adjustments will have to be made, as with any creative process, but it is important to stay consistent.
Creating interesting content and putting it out on a consistent basis is what keeps your clients interested in what you are doing and keeps them coming back.
Stay motivated and focused with each newsletter, and remember it is a marketing tool as well. Treat these deadlines as seriously as you would court dates and other legal filing deadlines. Planning is important to establish your newsletter. Decide whether your newsletter will be sent out weekly, monthly, quarterly, or even annually. Identify your audience, decide if you will have a specific theme, and then get to writing. Be consistent in sending the newsletter to your readers on a timely basis, and they will begin to look forward to it.
Email newsletters for law firms need to be concise
No one wants to read a wall of text. Break up the paragraph spacing and indents where needed, and keep the margins consistent for a clean look. Besides basic text formatting, adding media, like images or supplementary videos that add value to the newsletter are always encouraged.
In email newsletter design, the 3 Cs are considered highly impactful to your readers.
Consistency (within your page layout, for example with font size or margins) is important.
You should also practice Conservation by not wasting too much space. For example with layout mapping, it is important to not waste space with boxes that are too big or unnecessary graphics. Pictures and videos are a great addition to keep newsletters interesting, but they need to be handled and applied with care.
The third C, contrast, is to create visual interest throughout the newsletter. You can play with font size and color, the shapes of images and graphics. The creative options are limitless with the technology available.
Take time to experiment with the layout and play with the layout and images to find what will catch the reader's eye. Conserving and contrasting the content you have will make for a more interesting and cohesive newsletter.
Stay Relevant
Make sure to write about things that are interesting to people other than lawyers. While the nuances of the latest appellate court rulings can be interesting to you, the public isn't as knowledgeable on the subject, and needs to be informed.
Case summaries are not to be included. Think more of what the case summaries lead to, and use them as a springboard to write about and discuss the broader issues that affect your clients and potential clients. Push it a step further by asking a question that would be relevant to your clients, then answer it for them in the newsletter.
Let your client testimonials do the selling.
There's nothing like reading a great, thought-provoking sentence only to start the next with a sales pitch. Successful email newsletters for law firms provide information to readers on practical issues that affect their lives.
Client testimonials are great way to soft sell your legal services to potential clients. Try to feature testimonials which are relevant to whatever you are discussing in your newsletter. This will increase your conversion rates.
If you write interesting content about the work that you do, the cases you have participated in, your law firm will shine through with expertise and experience. Educating readers and demonstrating expertise draws more clients in for your law firm.
Email newsletters for law firms need to have some substance so that people have a reason to read it, share it, and save it. It can be effective to include some salesy lines but be careful – don't overdo it. People are always more responsive to someone who is trying to educate them than to someone trying to sell something.
Make It Easy To Get in Touch
As with any marketing tool, online or not, every law firm newsletter should have their contact information prominently displayed. An invitation for readers to call or email for more information is heavily suggested as well. A call to action will prompt clients to act now — no need to wait and think about calling your office, the number is right there!
Lawyers who invite the readers to contact them for more information typically get a bigger response than those who don't include the offer.
Remember, the main purpose of a law firm email newsletter is to gain new clients, so make sure that the readers know that you really want to talk to them, and that you are ready to do so!
While these tips are not the end all be all, start creating and stay consistent, and the rest will fall in line. An email newsletter will help spread the news about your law firm. Keep offering interesting content — and then back it up with your law expertise.
Law firm newsletters help you communicate with your clients and even reach new potential ones. Often over-looked as a marketing tool, newsletters are a great way to keep in touch with your client base and show them what their hard-earned money is going to.
By maximizing your law firm's newsletters, you can reach a larger, more diverse audience, and share your expertise with clients and potential clients.