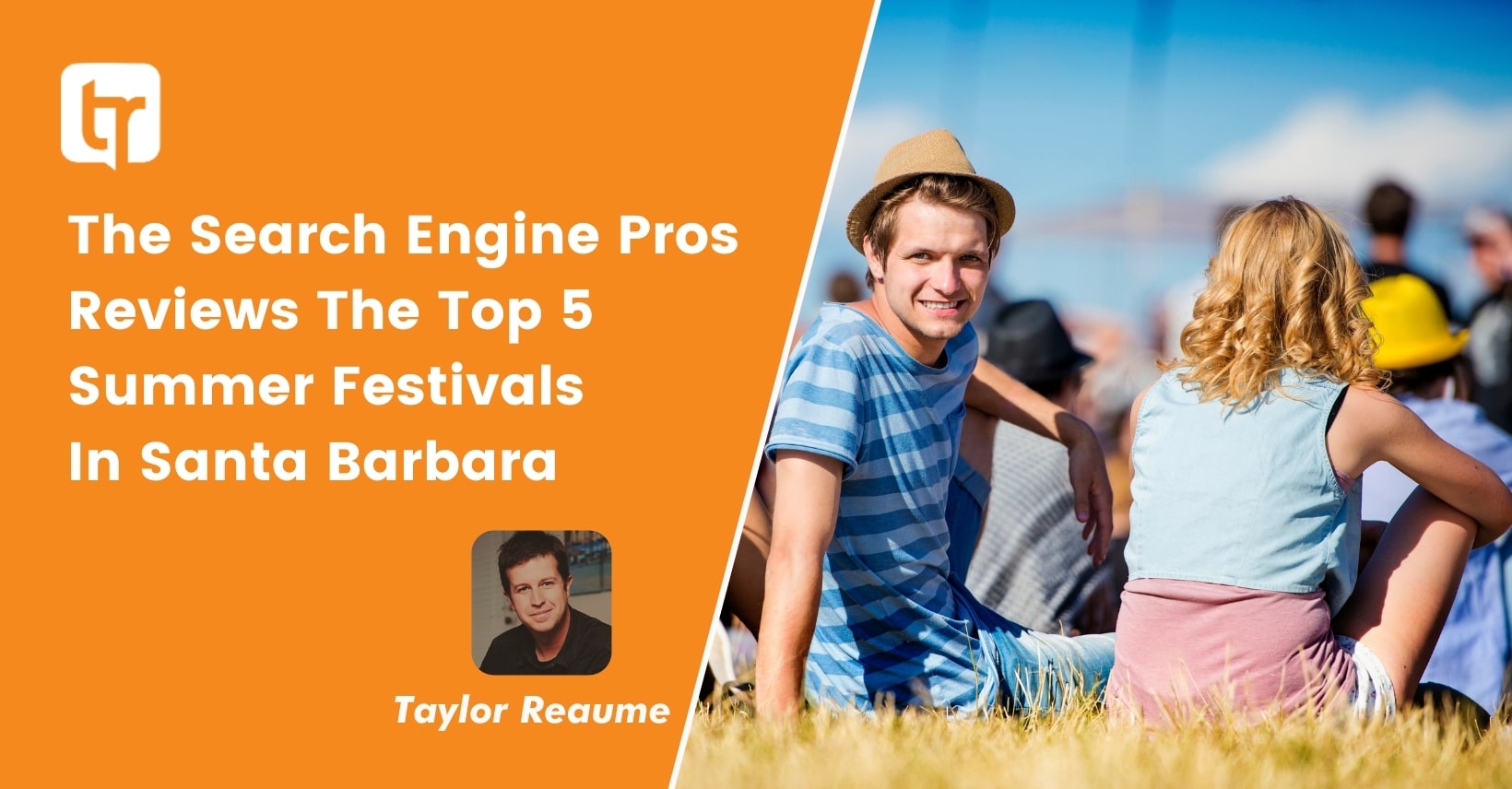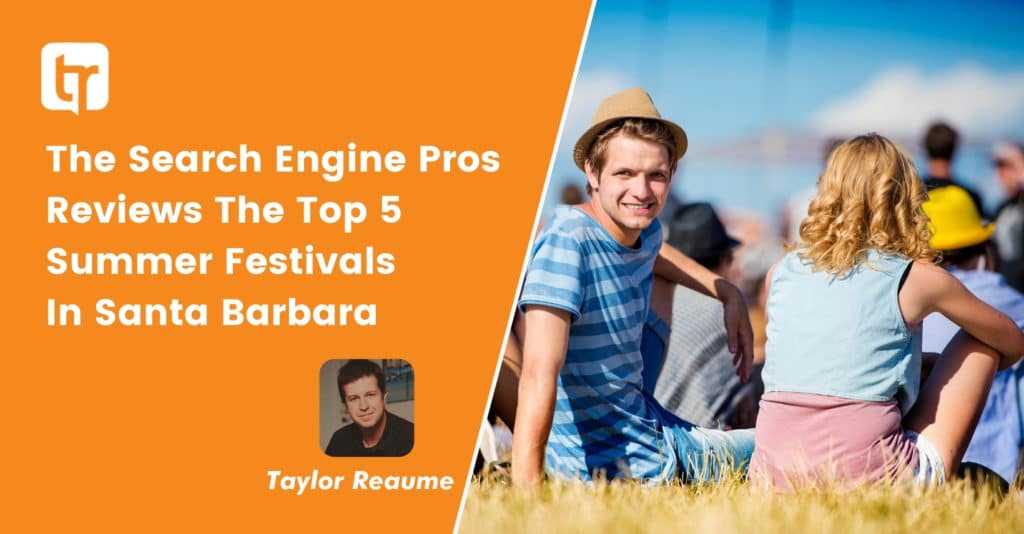 It's official! See who made the cut for our top 5 summer festivals in Santa Barbara.
Summertime in Santa Barbara is wonderful. There are so many events going on and endless fun things to do in Santa Barbara during the summer. The summer weekends here in the American riviera are always full of a wide range of festivities, attracting locals and tourists alike.
During the summer, there are five notable festivals that I believe deserve special recognition by our team here at The Search Engine Pros. These festivals in particular not only draw in a huge crowd of hundreds–perhaps even thousands–of tourists to our beautiful town of Santa Barbara, but they are what characterize SB summers as something special from ones spent anywhere else.

1. Santa Barbara Solstice Summer Festival
What better way to kick off summer but with the Santa Barbara Solstice Festival? Taking place each year in mid-June, right around the day of the solstice itself, this festival lasts for the whole weekend, from Friday to Sunday. SBSF also has the Solstice parade on Saturday, which travels down State Street to Micheltorena, then finally making its way to Alameda Park. At the park, festival-goers can enjoy live music, delicious food, and festive merchandise. Plus, here's an added bonus: because the parade ends at Alameda Park itself, people can admire and even take pictures with the floats set up along the entrance of the park, so you can enjoy the parade even if you missed it! All of the parade floats were made by local businesses, clubs, and organizations for spectators' amusement.
Perhaps what sets Summer Solstice apart from other summer festivals in Santa Barbara is that each year the festival has a new theme. Festival-goers dress up accordingly, and parade floats are designed to the theme as well. For example, this year's theme was Fantasy, and last year 2011's theme was Jungle. The jury is in! Summer Solstice is one of our favorite summer festivals in Santa Barbara! What will next year's theme be?

2. Goleta Fireworks Summer Festival
When it's the Fourth of July, every Goletian knows where to go to hit up some awesome fireworks, and that's Girsh Park! Each year, Girsh Park in Goleta is transformed into a patriotic palooza to celebrate our nation's birth. This festival attracts mostly the local crowd in Goleta, but its close quarters within the park make it the perfect atmosphere for family bonding on the Fourth. Of course, SB festivals are nothing without its live entertainment, gourmet food, festive merchandise, and overall fun spirit, which the Goleta Fireworks Festival is sure not to be stingy about. Not to mention, the festival's catering towards locals allows for more fun activities and attractions in comparison to this festival's West Beach counterpart during Fourth of July (which caters to Santa Barbara locals as well as tourists more). At the end of the night, festival-goers crowd together to watch the fireworks blaze over Goleta.

3. French Festival
The Santa Barbara French Festival made a comeback this year after being put on hiatus last year due to new ownership/management. Even after its one-year break, this fun filled summer festival in Santa Barbara still proved outstanding for its comeback. Located at Oak Park and held usually in mid-July around Bastille Day weekend, this fun, foreign fest features all kinds of French food, entertainment, goods, and fun–with a Santa Barbara twist! Local restaurants, businesses, and organizations are invited to present their French-inspired foods or products, as well as goods from other countries, though mostly France. The summer festival itself is split on two halves of Oak Park, each with a stage of different kinds of entertainment. One stage features singers, musicians, and other types of musical performers, while the other stage is dedicated to dance of all sorts. Festival-goers are even invited to participate in some dancing on the latter stage. If you're in Santa Barbara and have always wanted to go to France, or are just itching for a feel of French flavor, the Santa Barbara French Festival is the closest you'll get to it. We're proudly adding the French Festival to our list of favorite summer festivals in Santa Barbara.

4. Greek Festival
The Santa Barbara Greek festival is just like its French counterpart, except Greek, and held at the end of July rather than mid-(though still at Oak Park). In my opinion, the SB Greek festival is the most underrated of all the SB summer fests. The Greeks are known for their light, yet tasteful cuisine and fervent music and dancing, which this festival certainly doesn't pass up on. Indeed, the Greek festival is when Santa Barbara truly lives up to its Mediterranean name. So, if you want awesome Mediterranean food, Greek music and dancing, and overall summer fun, check out the Greek Festival at Oak Park – it made our top list of summer festivals in Santa Barbara!

5. Santa Barbara Fiesta: Old Spanish Days
Last but certainly not least is Fiesta: Old Spanish Days. Besides being known for its Mediterranean weather, Santa Barbara is perhaps best known for its Spanish-inspired culture and architecture. If you ever get the chance to do some history on the city of Santa Barbara, you'll be able to see just how much of an influence the Spanish had on the formation of this town. Thus, we have fiesta to reflect back on this town's history as well as learn about and appreciate the influence the Spanish had on it. Fiesta is celebrated all throughout the downtown area of Santa Barbara, from El Mercado De la Guerra and Del Norte to the Sunken Gardens in the Courthouse, from the Santa Barbara Mission to State Street itself. Santa Barbara Fiesta features everything from the best Mexican cuisine to dance performances to Spanish music concerts. Plus, you simply can't have fiesta without its infamous cascarones (don't know what that is? Look it up, or come to SB Fiesta to find out!), which can be sold at literally every block along State Street during the festivities. Some other highlights are Fiesta Pequena and .
This one of a kind summer festival in Santa Barbara begins on Wednesday night–yes Wednesday, and end on Sunday night, but the memories–and perhaps even the confetti–last the whole summer. (You can check the calendar of events on the website for a better idea of events during fiesta weekend.)
So there you have it, SEPro's reviews of the top five festivals of summer in Santa Barbara. These festivals are a great way to reach out to the community, enjoy the summer weather, spend time with friends and family, and overall just have a great time. Looking for some things to do during the summer? SB is the place to be! We hope to see you this summer at one of these festivals!